Actual rating: 4.85 stars (-0.15 stars because I passionately dislike love triangles, or love squares in this case)
Here's the synopsis of the novel from Goodreads:
Laia is a slave. Elias is a soldier. Neither is free.
Under the Martial Empire, defiance is met with death. Those who do not vow their blood and bodies to the Emperor risk the execution of their loved ones and the destruction of all they hold dear.
It is in this brutal world, inspired by ancient Rome, that Laia lives with her grandparents and older brother. The family ekes out an existence in the Empire's impoverished backstreets. They do not challenge the Empire. They've seen what happens to those who do.
But when Laia's brother is arrested for treason, Laia is forced to make a decision. In exchange for help from rebels who promise to rescue her brother, she will risk her life to spy for them from within the Empire's greatest military academy.
There, Laia meets Elias, the school's finest soldier—and secretly, its most unwilling. Elias wants only to be free of the tyranny he's being trained to enforce. He and Laia will soon realize that their destinies are intertwined—and that their choices will change the fate of the Empire itself.
In my heart, An Ember in the Ashes deserves 5 stars, but I had to be a little critical:P. This has definitely become one of my favorite books! The entire time I was reading, I was thinking "There is just so much suspense built up in the plot. What are emotions?". After seeing so much hype surrounding it, I was skeptical like any other avid reader would be. However, like many of my favorite books, this was different and better than what I expected. The novel was well written and the premise executed nicely. I could picture scenes and settings in my head (and it was cool to have maps of the world in the front and back cover of the book). I was repeatedly surprised, which really messed with my feelings.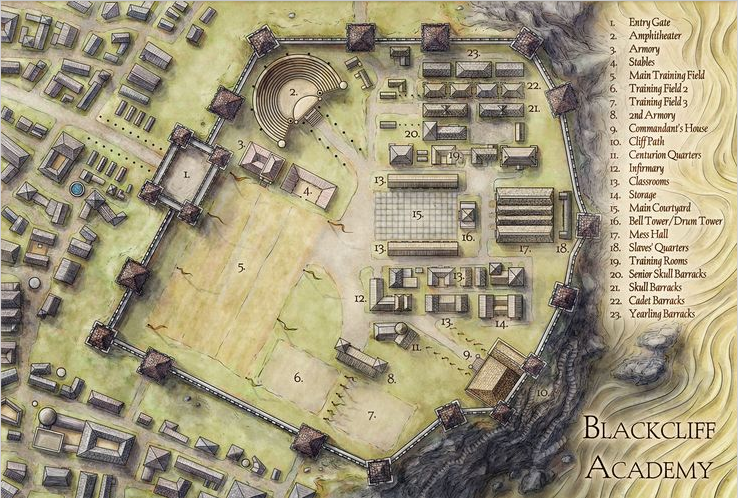 Map of Blackcliff Military Academy from the back cover
I love the dual POV's. Understanding the characters' backgrounds and emotions from the core was fabulous. I can't deal with my love for the characters. Laia's determination and belief in the good of people, Elias' courage against injustice. I felt for them because when they got injured, it just felt so real and painful. Sabaa Tahir created such vivid, strong characters that I felt like if I was in their positions, I would think and do similar things. Tahir did something that authors often don't do- she put her characters in serious danger and I was pretty much sitting on the edge of my chair for the majority of the book. The characters' emotions felt so real. Even the littlest of smiles made me so happy that I read the sentence(s) multiple times. There were certain scenes that made me smile so much and melted my heart. I sympathized for some of the minor characters as well.
A few downsides that I encountered. The beginning was a bit slow, but there was good set up for the fantasy world. So to anyone who thinks the book drags, I assure you the book will get better! Also, love square- UGH. I passionately dislike love triangles and there was a darn love square. While romance was a large aspect of the novel, it wasn't overwhelming and it definitely wasn't full of stupid drama, so I gladly say that it wasn't too bad. (Tho I felt like one side of the square was unnecessary, but handled alright nonetheless.)
An Ember in the Ashes was a big book, but the action and suspense captivated me to no end. I finished it with a few bathroom and eating break in between. I cannot believe that there wasn't going to be a sequel for this at first, but I'm so thankful that there is going to be one now. CANNOT WAIT!